Here is Maya's journey to clear skin and healthy body.
Let pictures tell the story of this brave and tough little girl of mine:
This photo you know very well. I took few good photos of Maya, at the beginning to compare for myself, because I could not see any difference at first.
First days were really exciting. Kids got really creative, especially Maya. She loved doing all kinds of simple salads and play with her food.
I was very excited to see the results. But there was not so much changing yet. The flare ups were coming and going as usual. The only thing was different, Maya was scratching much less, especially directly after meals. It was rather a positive sign.
We we're certainly watching a miracle happen and day by day, Maya's skin was lighter, calmer, smoother, less and less aggressive, less scaly and patches of white, clear skin started to show on her face. It was clearing up.
I have decided to write all this in my eBOOK and keep working on this method to be helping more and more people fight the eczema and have a healthy skin again. I am currently working with a large group of people on Facebook support group "The Fruit Cure – heal your eczema" and waiting for you to join! We are sharing our journeys there, finding comfort, help, encouragement, advice, answers to questions and generally all kinds of support needed. This awesome group is the first step for me to create a detailed ECZEMA PROGRAM with DIET PLAN etc, that hopefully I will finish soon.
Here is one of the members message: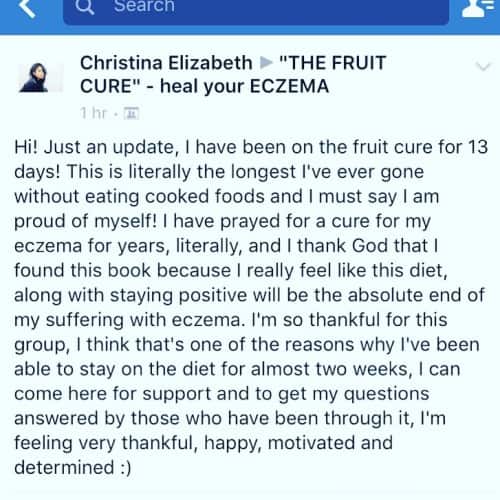 I was waiting for something to happen so much. And the fist one came really fast. After just a couple of weeks I started to notice big changes in our baby boy Troy. He had really bad eczema too, but since it wasn't for long and he never ate gluten, milk or any processed food, he was clearing up very fast. It took 3-4 weeks for him to have completely clear skin. Once I saw his progress I knew this is the right way to go. He was our light.
Finally after few more weeks something amazing happened………..
We started to see our daughter's face again. It was about 3 months into diet. The spots got smaller and pale, I started to see parts of really clear skin. Especially on her forehead. She still had a lot to go, but it was fading away. This time for real. She also was scratching only very little. I could see the difference now. And guess what she did? Maya took her first bath since almost a year! She wouldn't get into the water ever before. It was too painful. Real struggle was also her hair. Quickly becoming greasy but so hard to wash, when her neck and face was all inflamed. We managed to do that somehow, but I was washing her hair not more then once a month. Mostly because water was making her skin so much more inflamed. You can imagine how amazing it felt for her to have the water running over her body. It was a short shower and we quickly pat her with a towel to dry the delicate skin. After 1 hour I only put a bit of vaseline in places so she could straighten her arms without breaking skin again. But after a couple of weeks I did not have to do that anymore. She started to go regularly to the water and it was clearing up the skin so well too.
We just kept our diet and stay outside in the sun as much as possible.
In the middle of August her skin got so beautiful, almost like velvet. The water rinsed out the old particles of skin so well. It was still a bit dry in places with very few spots on the body, but I could say that it was gone. She also looked better generally – hair and eyelashes grew back, her face even changed shape, her skin was so lit up, no more circles under her eyes, even her eyes changed the color a bit and she just was radiating with happiness.
We are going to continue with diet. We were trying for over 3 weeks to add some steamed potatoes at dinner and last week 1-2 steamed veggies. Kids miss cooked foods a bit so it satisfied their cravings. But I have noticed that they are not ready yet.
This Blog update/20-07-2015:
It's been almost a year since I wrote that post. Maya is continuing to look great. You can always check out our Facebook page for frequent updates and pictures of the kids. All of the kids are progressing and I can see their immune system are stronger and stronger day by day. Maya is also feeling great. We just have had a couple of mild detoxing flare ups during this period of time, but each time it cleared up nicely. From my perspective today I see this process can be very confusing. I was receiving so many emails and messages from you guys. I was able to help parents with babies, small kids, and some adults as well. Receiving pictures with the results was so awesome to see! Click here to see some of the TESTIMONIALS from my readers.
With all the love,
Ullenka
Sorry for poor quality of some photos from the difficult times, these are the only ones we took since we were trying to rather hide her condition, today I am thinking, why I was even ashamed of that? Glad we have these at least..
GET my eBooks and JOIN the support GROUP on FACEBOOK. Don't wait. Start your healing journey today and say goodbye to eczema forever!! Let me help you.